How is that a profession anyway and what does a personal shopper do?
Read here below…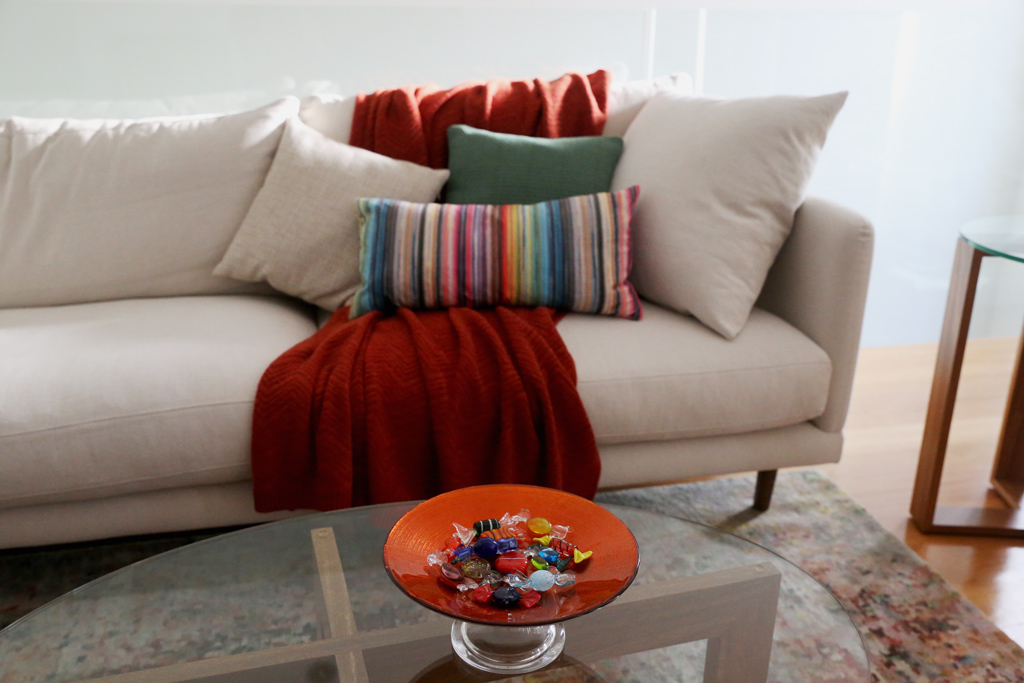 Photo: INSIDESIGN

Personal Furniture Shoppers shortlist and specify materials
8.55
Usual before school chaos trying to get kids and self out of house fully dressed. Had mascara only in one eye. Not good look for shopping – first impressions
(blah blah)
.
---
9.15
Finished face. Going through caffeine, to do list and
the shopping list
I had prepared for the client to decide what I need to buy, and planning the best route there. Got side-tracked by hallway mirrors and bed linen.
Order
previously agreed bedroom accessories from an online shop in Melbourne.
---
9.30
Ask about quotes
for bathroom shaving cabinets – need a custom design because I want an internal mirror added to them too. That's so common in Europe
(and practical! You see the back of your hair!)
and so rare in Australia –
weird
.
---
9.45
Drive to my client's house to
set up some furniture
. My client is not at home – she's super busy at her (
saving-the-world kind of seriously super
) job – but I have a key. For this client, I've sold the
Gold Implementation package
in addition to
Sourcing
, so it's the whole turnkey solution:
design
, shop, style and even get rid of the old furniture.
---
Never travel without a screwdriver and toolbox
10.05
Unwrap previously delivered sofas. I had ordered them a couple of months ago so am very excited to see them. All big and custom items get agreed and invoiced in advance and lead times can be quite long.
---
10.15
Screw on the legs. Realise sofas are heavy and I'm by myself today and don't want to ruin the floor. Run to hardware shop to buy furniture felt.
---
10.35
Fix the felt,
move the sofas
to the correct place. Remember should have taken photos of each step to make a time lapse video. Push sofas back to corridor. Set up camera on a tripod.
---
10.50
Move the sofas to the correct place again. Take a photo after every move.
---
11.10
Go shopping.
It's the last day to return some towels back to a shop – my client didn't like the feel of them so remember to take them with me. Small accessories I just buy and
style expertly
and return to the shop if needed, or charge my client if she keeps them.
---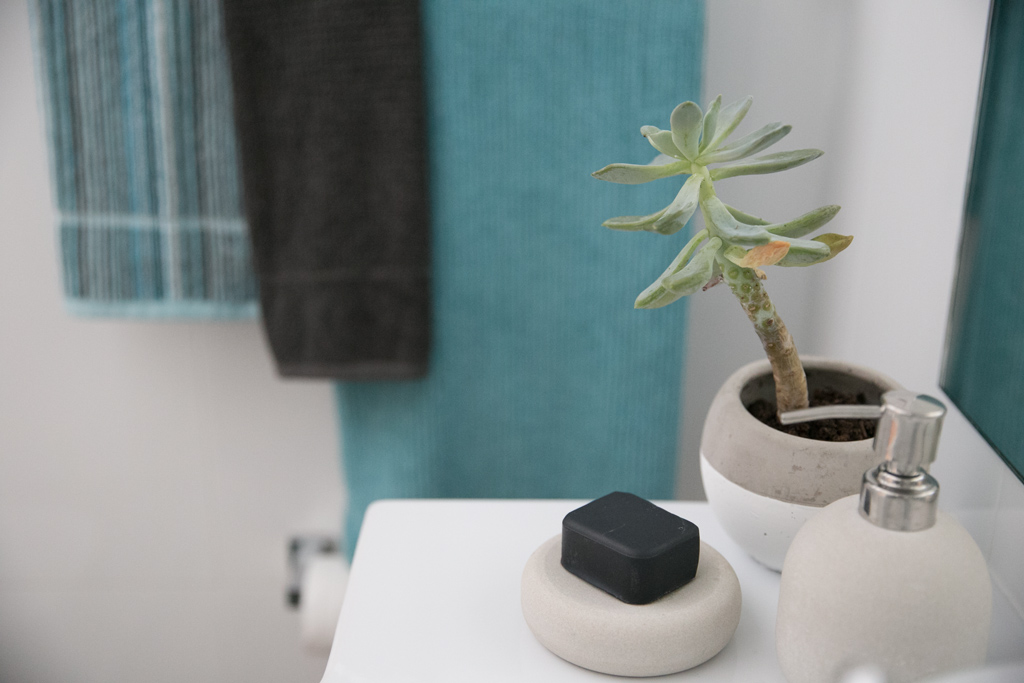 Photo: INSIDESIGN
It's Monday, ok?
11.25
See a perfect desk
in a shop window. Slow down to have a better look. Get beeped by a threatening looking big blue bus. Decide to come back later.
---
11.45
Arrive to the custom lampshade shop. Do loops around the block to find parking. Find the shop empty and available for lease.
** NOoo! I liked them! **
---
Grab a coffee from a coffee shop next door and google the lamp shop. Their website still shows this address, which is not a good sign.
---
12.05
Coffee is cold by now. Drive past the perfect desk in a shop window. Managed to swerve into a quick parking without killing cyclists, just two blocks away. Find out the shop is closed on Mondays.
---
Make a mental note *never* to shop on Mondays again.
---
12.15
Pop in to buy some vases
in a pop-up shop. Shop closed permanently last weekend.
WHAT IS GOING ON???
---
Trade treatment
12.35
Drive to a fancy shop in Surry Hills, it's open on Mondays.
Choose several cushions
and a beautiful throw with the sales manager. Some of them were not on display but she found them in the store room.
She lends them to me to try
at my client's place. Amazing service.
---
Many places offer a 
trade discount
, and I pass on some of these good deals to my clients. Win-win! My clients can usually save more than my fee, even after my commission.
---
13.15
Drive on to another shop in Surry Hills to pick up a coffee table and a side table I had previously
booked for a loan
. These ones I had to pay for in advance, but I can still return them if my client doesn't like them.
---
13.30
Drive like an old lady back to my client's, trying not to break the glass tables, although they were wrapped in bubble wrap that I found from the car.
---
If you need numerous amounts of packing material, my trunk is usually a good place to find some.
(And then people ask why I don't advertise with stickers on the car!)
---
I tell you why: With two small and messy kids, a car which is regularly used off roads and half a house worth of accessories and bubble wrap in boot at any given time, is not a particularly appealing advertising place…
---
14.00
Carry the tables inside very carefully. Place the cushions and side tables in their places.
They are gorgeous! And so is the rug.
---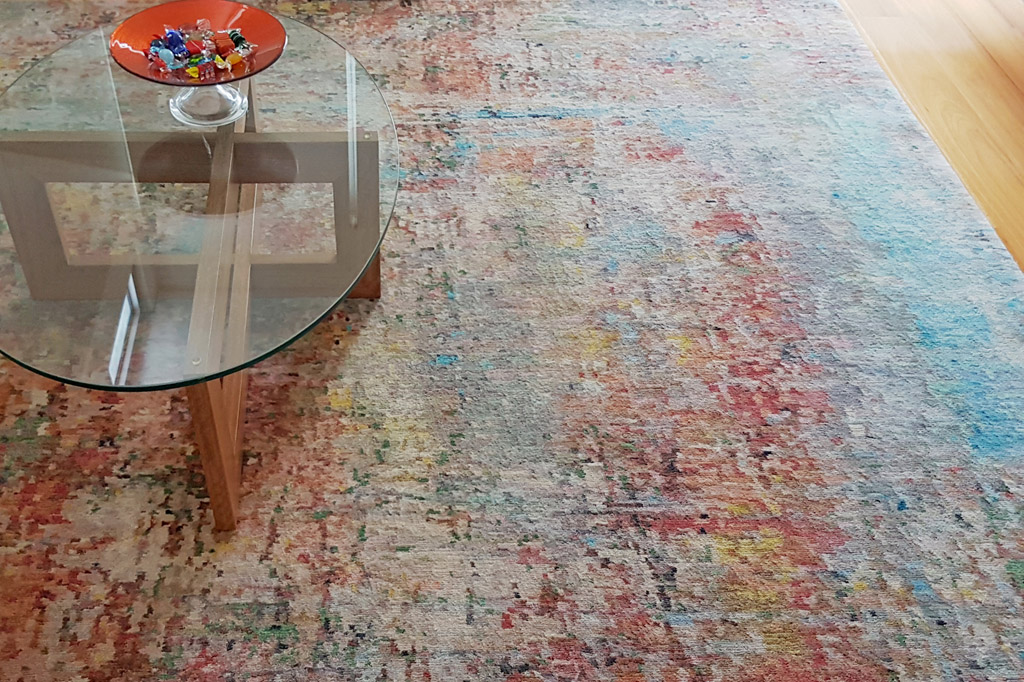 Photo: INSIDESIGN
Loans and returns
14.15
Carry an arm chair from the guest room – it was delivered on Friday for a one week loan. Another great shop who knows how to treat clients well.
---
We're not planning to choose this chair with this fabric but wanted to
test the size and how comfortable it is
to sit in – and yet they were willing to deliver and pick it up on trial for free! And they will give me a good discount too.
---
Usually my clients test out the furniture in the shop according to my shopping list, but this client doesn't have time to run into shops to test out the smaller furniture, hence I bring them to her.
---
The chair seems to have an iron structure – gosh it weighs the same as the sofa!
Nice solid furniture, eh!
I'll choose the fabric if my client gives thumbs up for the chair.
---
14.20
My arms and legs are shaking from carrying stuff. Realise that I haven't had lunch. Oh, too bad.
---
14.30
Take some more photos to capture the time lapse. The light has changed and I shouldn't have altered the zoom earlier.
Dang – the video will require a lot of extra work now.
---
15.00
Pop in to
buy some flowers for decoration
and a quick banana. Pick up bedroom organisers from a shop.
---
15.30
Take more photos. The plastic around the glass tables looks stupid in the photos but I don't dare to remove it, in case the tables will be returned.
(PS: they stayed)
---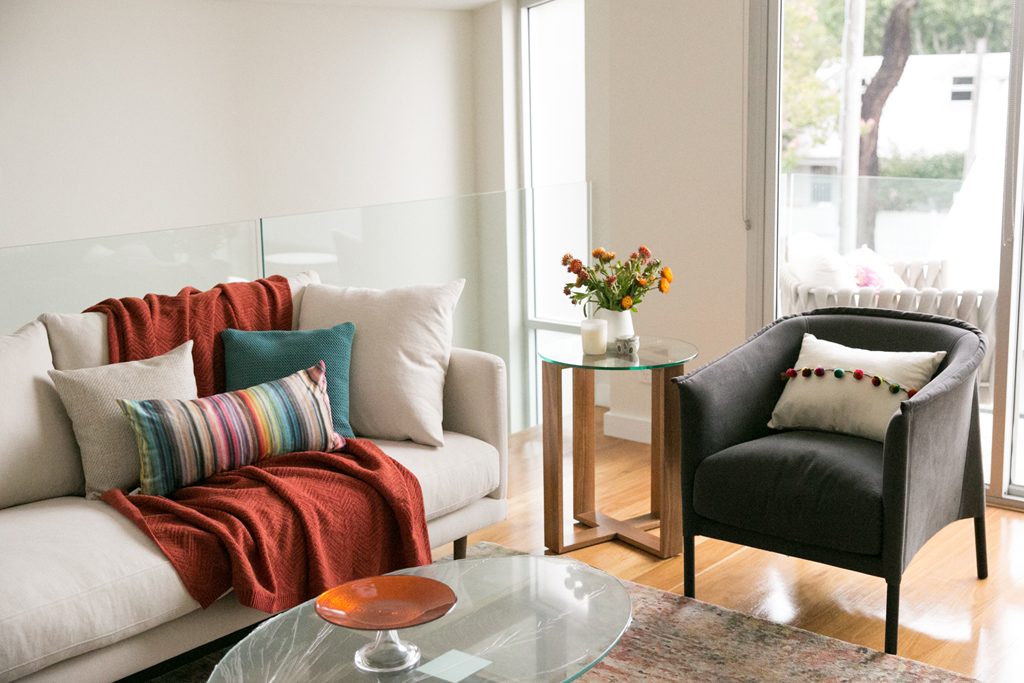 Photo: INSIDESIGN
Juggling Mum
16.00
Quickly go home and pick up the kids. Sticky cuddles.
---
16.15
Realise that I still have towels in the car.
---
16.45
Take the kids into the car too.
---
17.30
Drop off the kids to Finnish School. How much have I been sitting in this car today?
---
17.45
Drive quickly to a nearby shopping mall to
return some cushions
and to swap a throw which had a pulled string.
---
18.05
Crawl out from underneath the half-closed shop door. I wish they would stay open a bit longer. Or at least had a bit more dignified way to leave.
---
18.06
Try to return the towels to another shop but they have just closed. Take the towels back to car. Channeling my inner Scarlett O'Hara: –
After all tomorrow is another day
.
---
18.20
Wait for the kids. Kill time by trying to post photos on
social media
. Should have brought my laptop.
---
19.10
Kids ready. Drive home. Dinner. Bed. For them.
---
19.55
Drive back to my client's. Someone wants to buy her old entertainment unit and is coming to pick it up. My client comes back home tomorrow and I want it all to look lovely for her.
---
20.10
Hmm. The buyer is late.
---
20.25
The buyer is really late. Take more photos to kill time.
---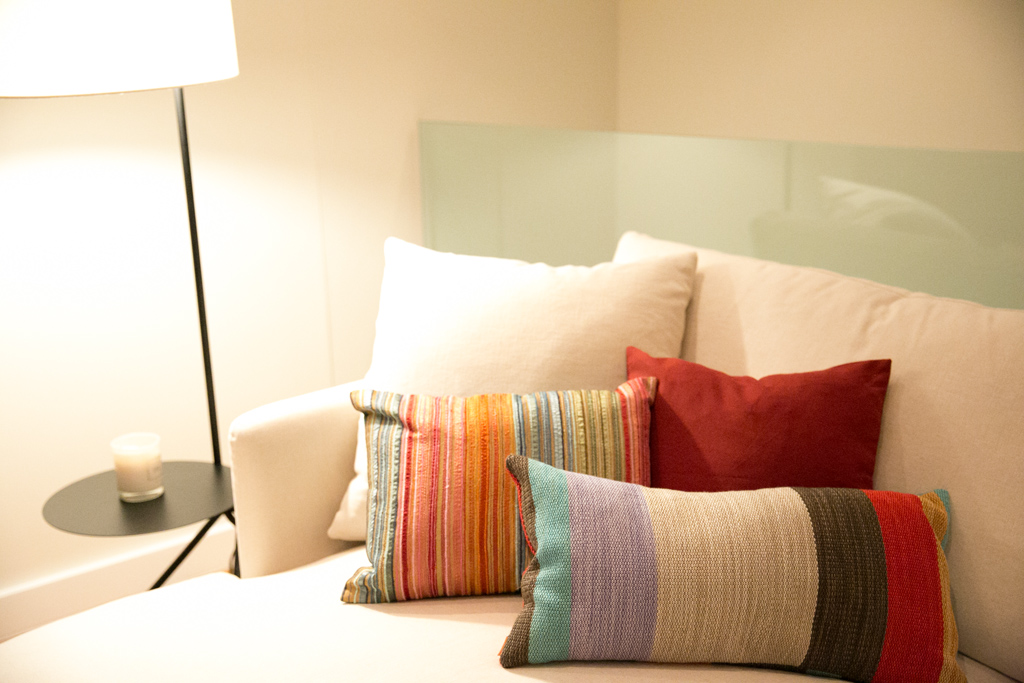 Photo: INSIDESIGN
20.50
Get a reply message from the buyer – she's not coming. Would have been nice to tell me. Fuming. Leave a note on the entertainment unit for my client and go home.
---
21.10
Home sweet home. Have a glass of wine while browsing email. Accept an
invitation to a trade only event
. Cool.
---
If you would like me to come and carry your sofas and travel around with your cushions, please let me know!
Subscribe to my blog if you're not already a subscriber!
Have a nice week!


Sari