Beach ohoy!
This week's blog is about an inspiring little renovation of a beachfront flat. I'm desperate to think of a pun for it:
See a change in a sea changer
Some time ago I was asked to design an update to a little studio apartment, which was being used for holiday rental for 1-4 people at a time. It looked a bit grim. It needed a new kitchen and appliances, new floor and fresh wall paint. Whatever the previous owners had thought with that carpet and tiles combo I cannot fathom. The bathroom was to be kept but to be made more functional and contemporary. And since it was a rental, the budget was to remain small.
My clients bravely did all the renovation and shopping themselves and the results are fantastic! I did the design, specified the appliances and gave some guidance on the shopping list.
---
The room
This is where it started from. See what I mean with the floor. Why, oh why?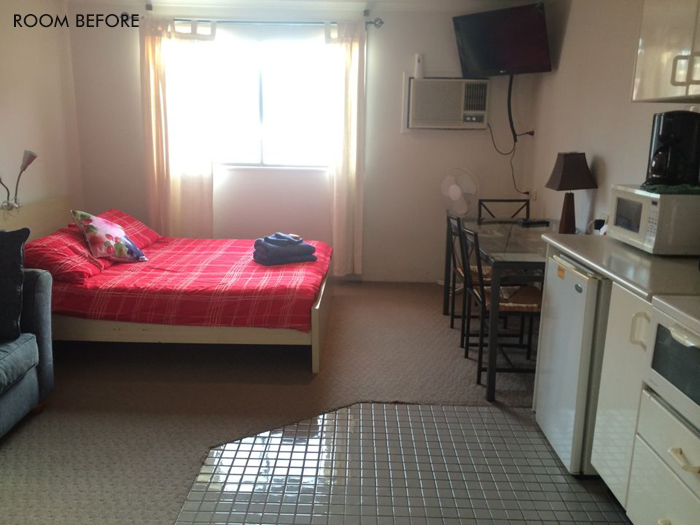 And off to work they went. There were tiles underneath the carpet too – not a pleasant surprise at the time. The clients were very hard-working and eventually the unsightly tiles lost the fight and were replaced by a smooth timber laminate in mid-tone brown. It was just perfect: not too light and washed out, not too orangey and not too dark.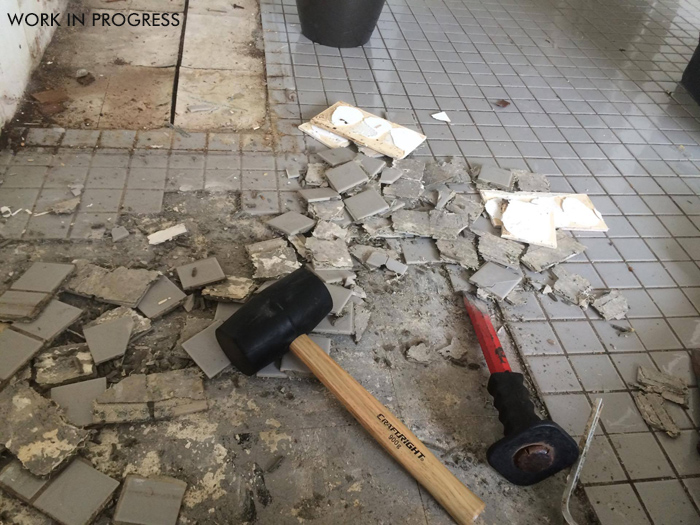 The plan for the flat was casual, beachy and crisp look, with coastal, fresh colours of blues, greys, white and sand. The inspiration for the colour scheme was a set of three beach posters.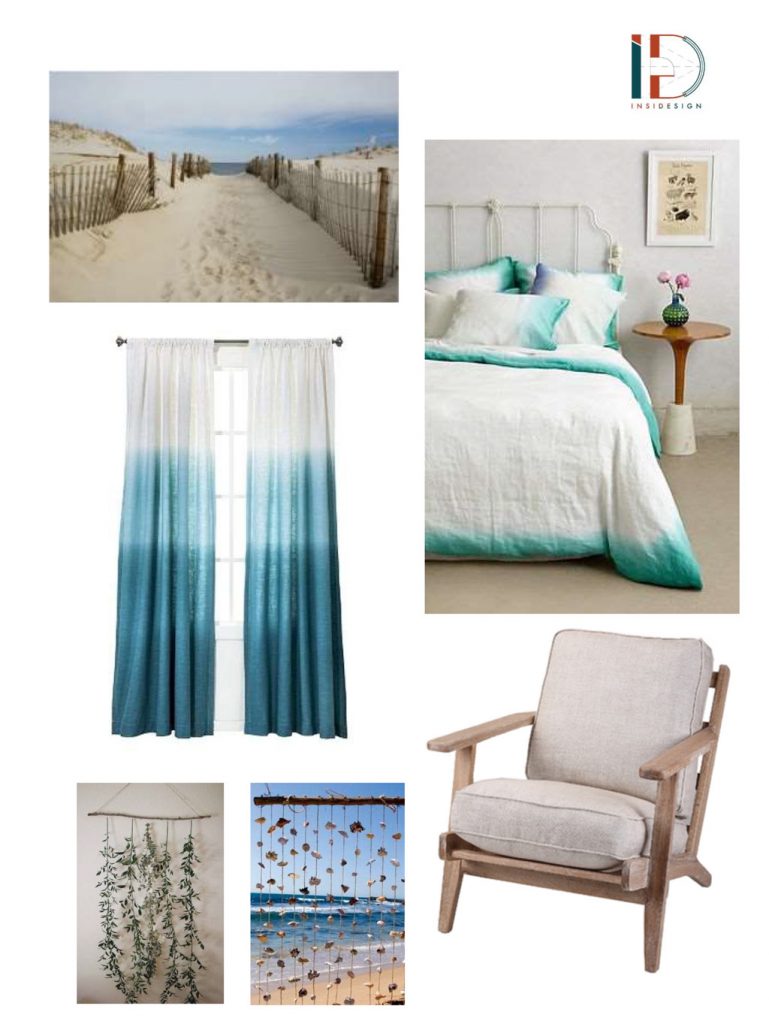 Walls were painted light grey with the slightest hint of blue (Resene Quarter Surrender) to make the walls appear to recede and the room to look larger. Skirtings and all trims are white (Resene Quarter Alabaster). Furniture was going to be very simple, coastal or Scandinavian.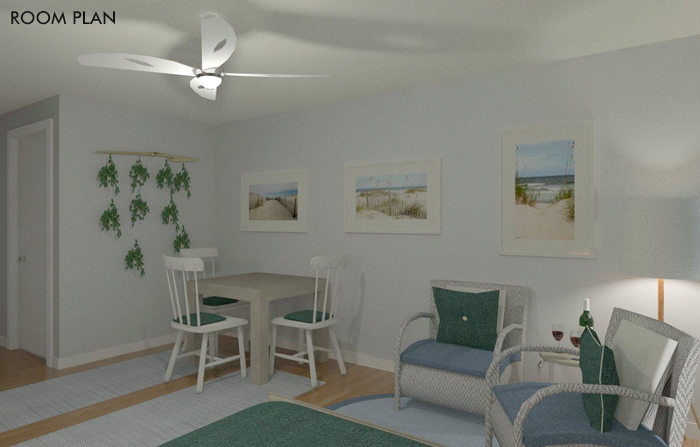 The room layout was changed just slightly: kitchen had to stay where it was, but bed was moved to a quieter nook and the sunny spot in front of the window was used for lounging and hanging around. The big sofa bed was given to charity, instead the extra people in the flat will get to use folding camp beds. Dining table was swapped to a square little table instead of the big 6-seater. All this released a lot of floor space.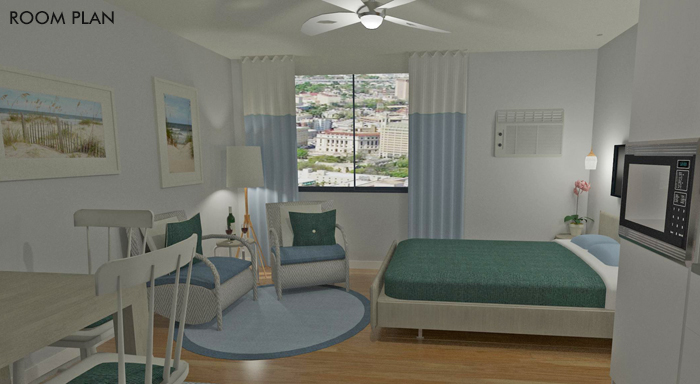 And this is what it looks like now, first without the pictures on the wall: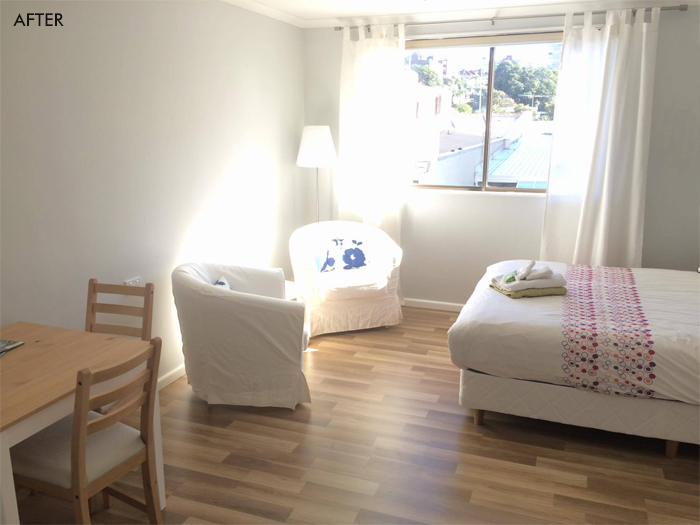 And then with the beach posters on the wall: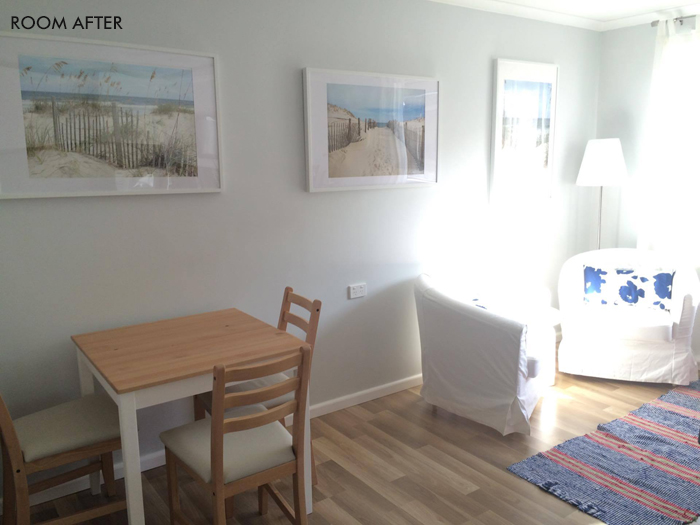 The curtains might still get a light blue ombre dip dye and the rug might change to a lighter blue, but isn't it fresh and beachy already!
---
Kitchen
The kitchen cabinetry needed changing. Not to a fancy chef's kitchen, but something practical and not too expensive. There was no working space practically at all and it looked a bit worn out.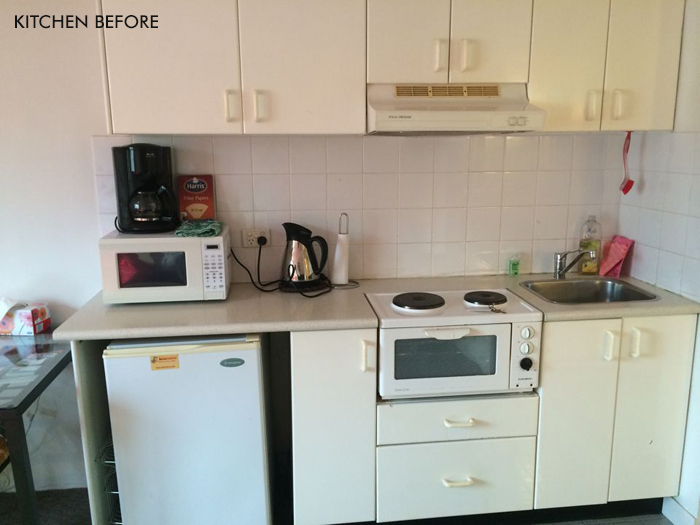 The plan was simple – a small practical kitchen using IKEA cabinetry.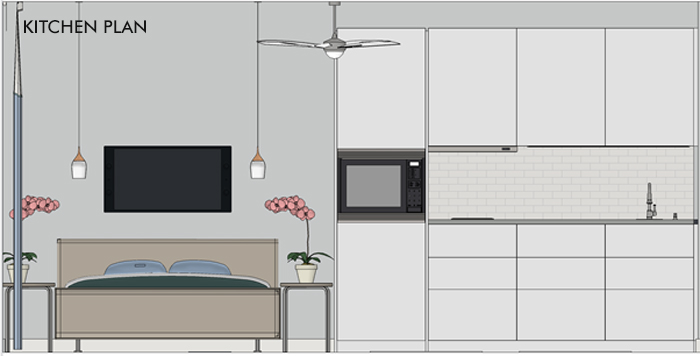 The great intention was to integrate both fridge and microwave oven to the cabinet, but unfortunately that wasn't possible with the IKEA cabinets – microwave had to stay on the benchtop. Also, dish drying cabinet had to be forgotten because of a switch board that was hidden in a cabinet and couldn't be moved. The two-plate ceramic cooktop fitted sideways and being just 30cm wide gave extra working space.

And the result is super sleek and pretty!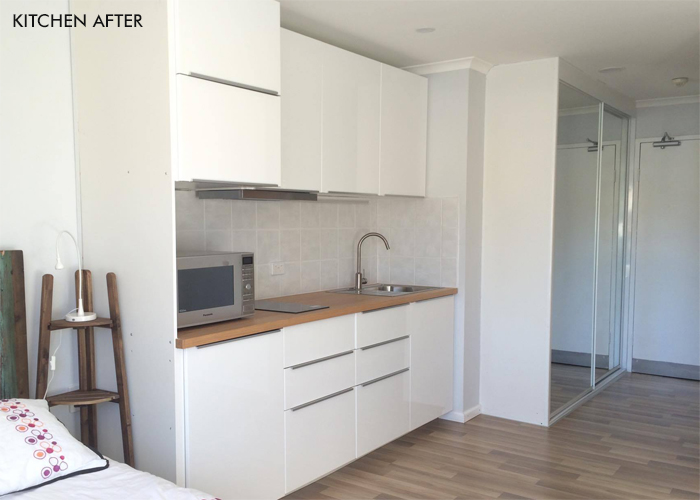 Just look at it! Wouldn't you want your holiday house to have a kitchen like this!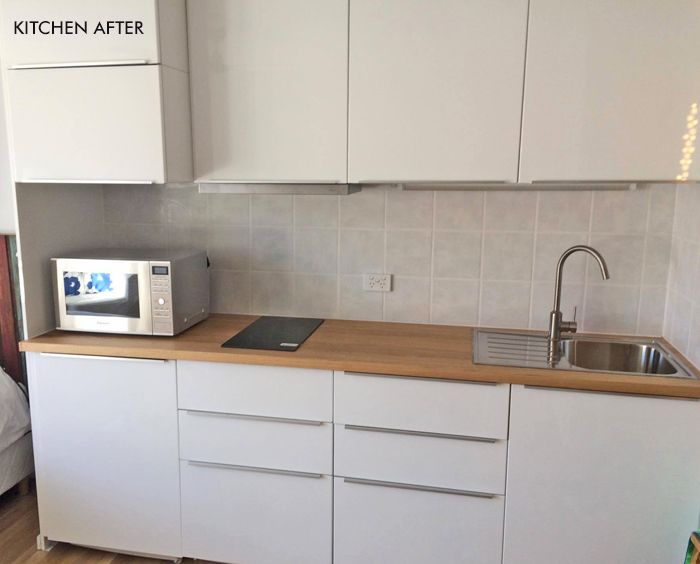 Can you spot the fridge on the left?
---
Bathroom
The bathroom was dated but the tiles were in good condition. We decided to leave the tiles and just try to make them look modern. As luck would have it, square 100 x 100 mm tiles are quite fashionable now, just with a darker grout. Instead of replacing tiles (and waterproofing the whole bathroom again), only grout colour needed to be changed. The impractical vanity with no storage had to go too.
Bathroom looked like this: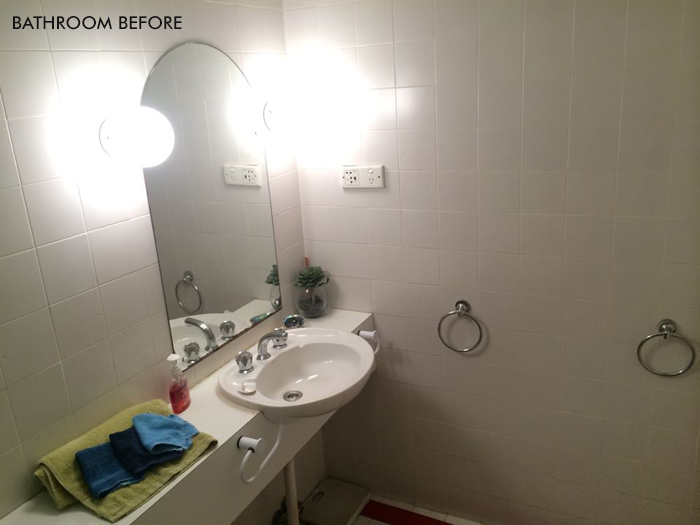 This was the plan: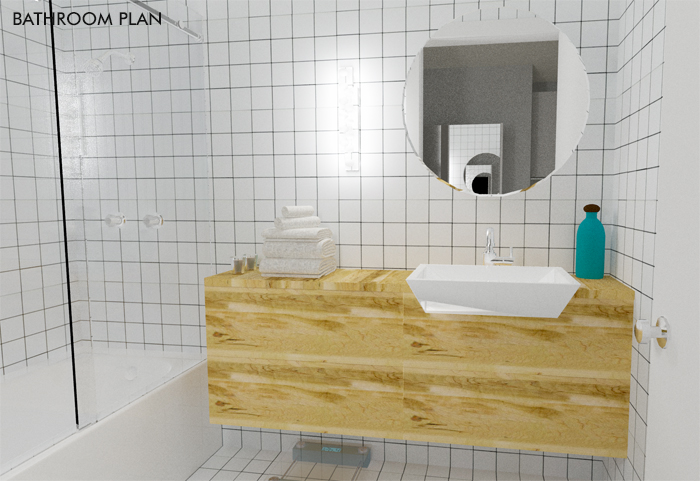 The plan was to install a new timber laminate vanity with drawers. Dark grey grout with square white tiles and a round mirror modernise the look. Shower screen protects the vanity from splashes.
And this is the result: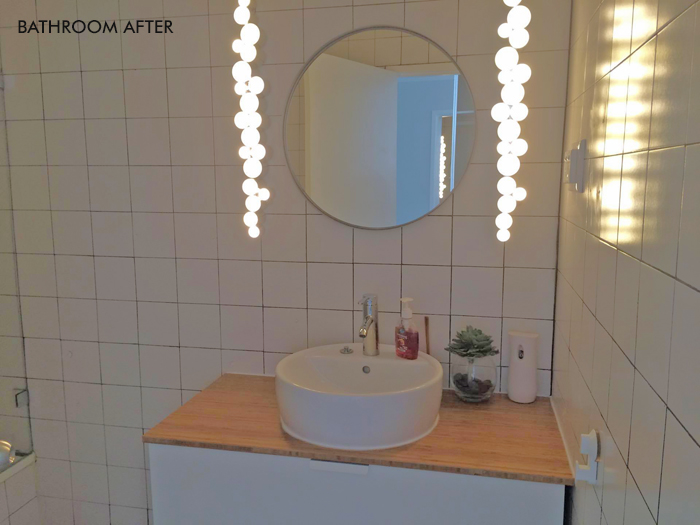 It's beautiful, isn't it!
All in all, great results with a small budget, don't you think!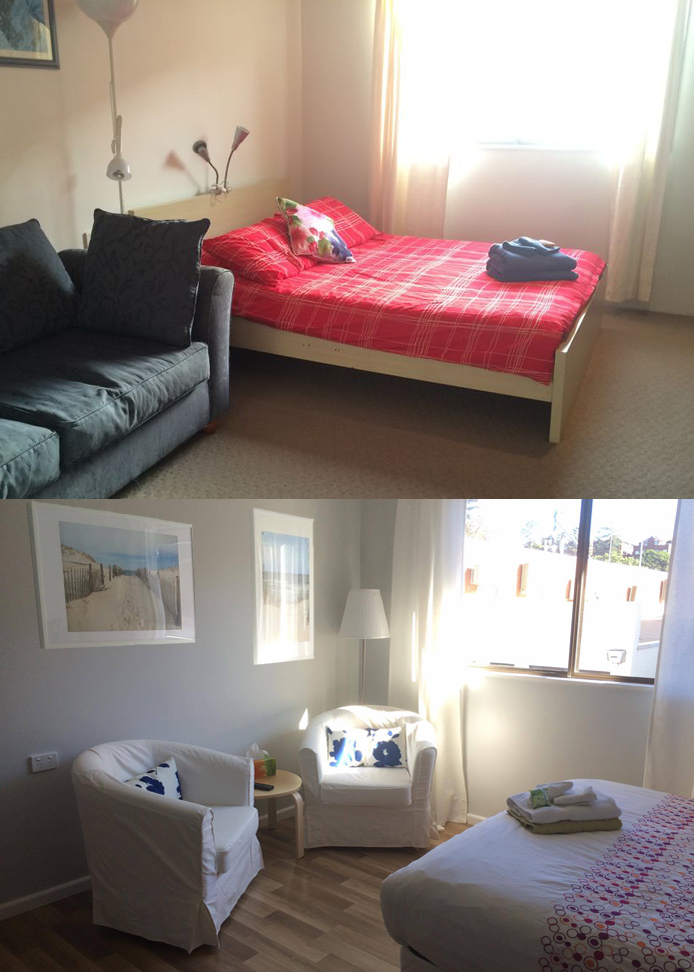 That's all folks. Drop me a line if you'd like help with your renovation.

Have a lovely day!


Sari