Hello again!
I had recently the pleasure to work with a client with quite eclectic taste in decoration. Let's call her Dianne*.
*it might or might not be her real name.

Dianne had house extension plans for her Federation cottage from the architect, with all the big lines mapped out. And she had a massive folder full of cuttings of things she liked, in addition to a large, well organised Pinterest profile. She just needed some assurance how to put the two together. Luckily, she also had an amazingly competent builder.

And talking of personality – I had thought I have somewhat quirky taste. Well, I soon found out I had met my match!

Look: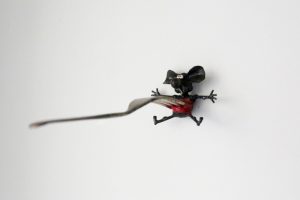 Here's my little kitchen wall mouse that has followed me through 6 houses and 3 continents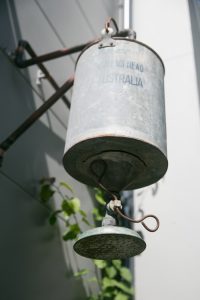 Here's Dianne's outdoor shower

Wait, there's more: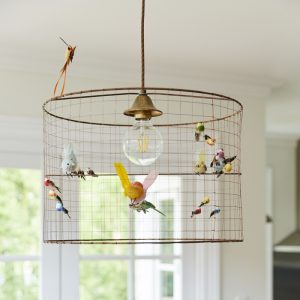 Here's my precious dining room light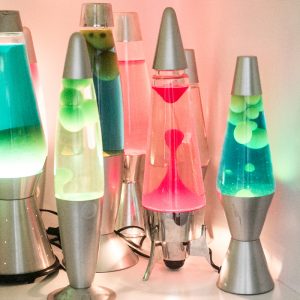 Here's Dianne's collection of lava lamps

See what I mean?

We ended up working in two phases: kitchen and bathroom design followed by what I now call Interior Coaching.

Kitchen design
---
Dianne had a very good idea of what she wanted in her kitchen – it was just a matter of making it all fit in ergonomically, functionally and looking balanced.
After the initial kitchen design, we worked on many of the tweaks together on the computer and it was a very efficient and fruitful process. Instant gratification with the Chief Architect software and coffee!

Dianne wanted her kitchen to be white with shaker cabinets below benchtop and minimalistic flat panel cabinetry above.


She wanted a rustic range hood with a timber shelf to display nice jars.


She wanted a large and practical pantry.


And she really wanted to fit in a sofa for the friends and family to hang around while she was cooking.

This is what the design looked like:


Kitchen as designed


Kitchen as built

The kitchen backsplash proved tricky to choose from – in the end Dianne ordered an antique mirror splashback – a great choice!

It has not been installed yet (hence the black paint), but here's a sample:


Antique mirror backsplash sample with Dianne's DIY magnetic spice wall

 Do you want to see more of Dianne's lovely house? Keep on reading!
Dining room design
---
The opposite wall from the kitchen was to be built from reclaimed old bricks and have storage cabinets, study nook for the kids and a long dining table.

(We had long discussions about including a mirrored bar cabinet with lights and a disco ball inside and I'm happy to discover that it is only missing the music and disco balls! Work in progress.)


Dining room as planned


Dining room as it is now

During the construction some things evolved – as they always do. Dianne added vintage grids as details for the dining room cabinets.


Dining room cabinet details

What about the bathrooms? Show me the bathrooms!
Bathroom design
---
The new house extension has three bathrooms, an en-suite with gorgeous decorative tiles and a very fancy Omvivo wash plane (like the ones in Sydney Opera House!); a laundry and bathroom with access from the pool, and a very quirky toilet in the underground garage.

Dianne had all her tapware electroplated to fit the industrial and vintage colour scheme with a portion of the cost of what custom colours cost in new tapware.

Look at the results:

First the en-suite: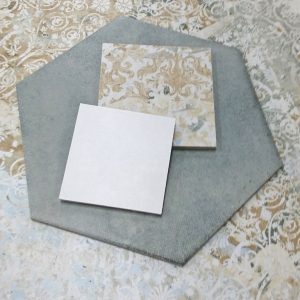 En-suite tiles from Academy Tiles


En-suite as planned


En-suite as it is now

For the laundry / pool bathroom we chose beautiful turquoise blue floor tiles and very simple white wall tiles. The cabinetry and room layout changed a few times, but the butler's sink and shaker cabinets stayed in the plan from the beginning to the end.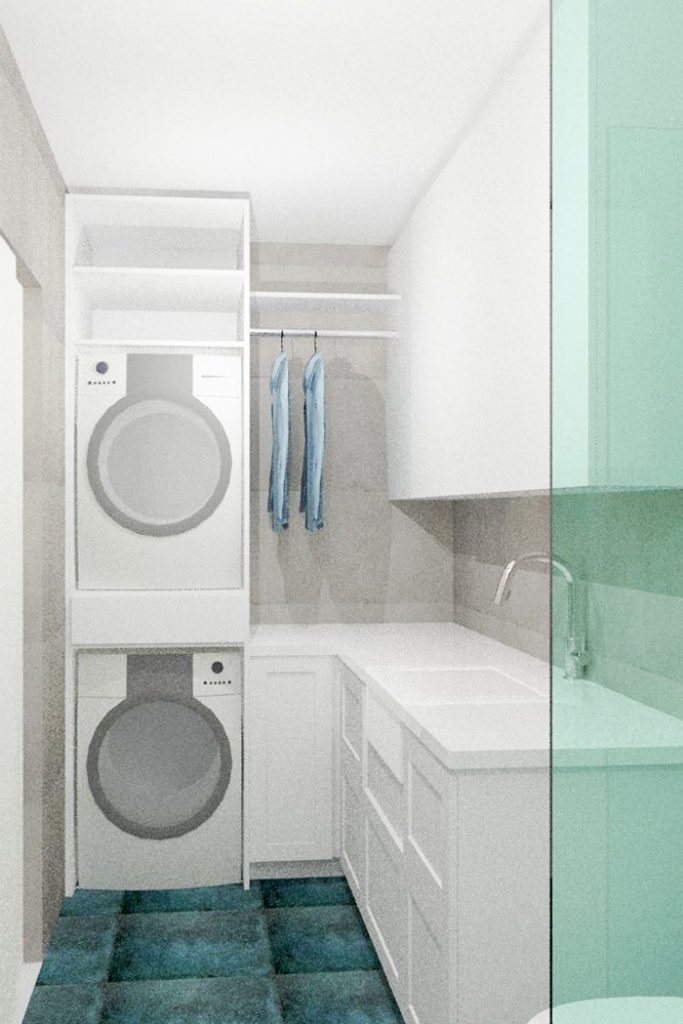 The laundry bathroom design


The laundry bathroom in use

Interior Coaching
---
In a big renovation there's so much more to decide besides kitchens and bathrooms. There are a variety of bigger and smaller items to design and choose from, such as flooring materials, paint colours, door handles, furniture, window treatments, accessories… the list is endless.
In Dianne's case, after the initial designs she needed just a little design help here and there, such as designing and modelling a fireplace in the bedroom, and help to specify some materials. That was perfect for Interior Coaching.
 Interior coaching – what does that mean?
Let me explain:

In the coaching mode we bounced around ideas, and talked about her renovation progress, setbacks, worries and challenges as they happened. I did some small designs or material research for her, gave some guidance and consultation, and we did some shopping together. (Trade discounts – say no more!)

For example, Dianne really wanted a rustic fireplace of reclaimed bricks in the bedroom but a wood fire or gas fire was not possible or allowed. I thought of a bio-fuel burner and it was an ideal solution here – it doesn't need a flue and doesn't emit poisonous gases – and it heats the room too. And she could use the old bricks to make it.


Bio-fuel fireplace in the bedroom as per the design


Actual here. The builder installed an extremely clever retractable TV behind the fake chimney.

I found it puzzling that Dianne would sometimes apologize of talking only about her renovation. For me it was a fascinating topic and I would like to know everything about it! Then again, I had invested some time and effort on it.

But here's the kicker:
 The reality is, that not all our friends and loved ones care about our renovations. (SHOCK! HORROR!)
Unless of course they are renovating themselves, in which case they want to talk about their own houses.
And that gave me the inspiration for the Interior Coaching service. We all need our own interior buddy a.ka. Interior Coach to talk the design through.

Read more about the Interior Coaching and other Interior Design services on my website.
Dianne's house turned out amazing, quirky, interesting, beautiful and practical – and it certainly matches the personality of its owners. Read here in my previous blog how you too can add personality to your house.

If you want to discuss any services with an interior designer, please do give me a call or send me an email.

Subscribe to my blog if you're not already a subscriber!
Happy Easter everyone!



Sari