Hello there!
It's a bit early to celebrate the New Year yet, but bring on 2017!
Last week I attended a seminar by Victoria Redshaw from the UK-based trend forecasting agency Scarlet Opus at the Melbourne Decor + Design 2016 show. And I liked what I saw!
What are the interior design and colour trends for 2017?
I do wonder about the obvious chicken/egg question of how much self-fulfilling prophecy is the trend forecasting in the first place. See, someone decides on the trend, delivers seminars and press releases, magazines write about them, random bloggers write about them, designers design them and shops buy them and voilà, so it happens. But let's admit it: I'm not a trend setter. Let's just be glad someone does that work for us. And this time I'm absolutely delighted by what's up and coming in the design quarters!
Next year will be good news for people like me, who like autumn colours and industrial style, and bad news for the marble industry and our doll's house and all those other people who have recently done up their kitchens and bathrooms in marble. In general: marble and copper are out, other stones and brass / bronze are in.
Victoria Redshaw explained four emerging macro trends for 2017:
Desert Wanderer
Organic Matter
Analogue Workshop
Tribe
and I don't know which one I would like the most!
The colours of Desert Wanderer sooth my soul
Desert Wanderer is ancient, slow minimalist style with soothing colours and textures. It is "controlled rusticity", meaning a mixture of primitive and raw vs. minimalist and sophisticated. Colours are dry, earthen oranges (yay!), muted spices, mauve (really? I mean really?), browns or mineral shades and indigo. It's like they re-used my colour analysis results for this!


Photo: Victoria Redshaw – Scarlet Opus
Desert wanderer materials include raw soft suede, soft linen, porous pottery and stone, natural stone and blushed silver (like rose gold but different). Shapes are minimalist and triangular. Patterns are subtle, Moroccan, Aztec and ombre dyed fabrics.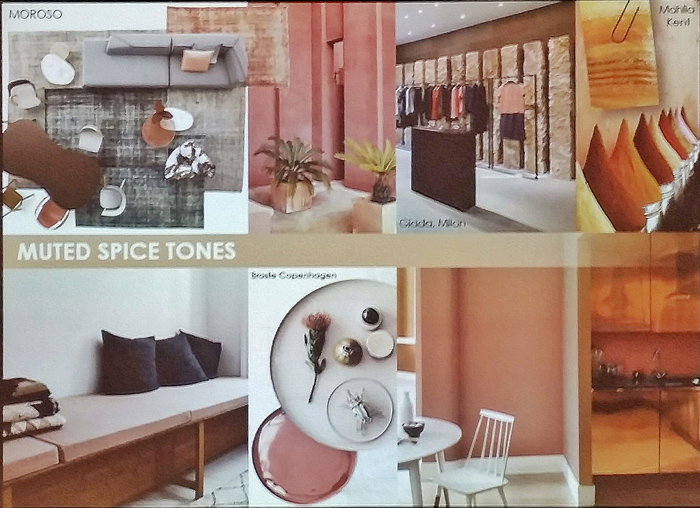 Photo: Victoria Redshaw – Scarlet Opus
The colours and materials of this style are the total comfort colours for me. Think about hot desert winds blowing light linen curtains while you're resting on earthy-coloured soft cushions on a minimalist suede sofa. (The image in my head has also a glass of bubbly in her hand.)
Organic Matter makes the nature matter
This is already happening in architecture. You know how every high riser gets the vertical garden hanging from a part of it – that's this trend. Organic Matter style emphasises naturally man-made, ecological and sustainable lifestyle and letting the nature take its course. Making sustainability trendy can only bring good for the world and I warmly welcome it!


Photo: Victoria Redshaw – Scarlet Opus
The colours are concrete and urban colours with botanical greens and pastels and orange / pink corals from the reefs. Materials are anything raw and patterns are irregular, like nature would be spilling out of a man-made object.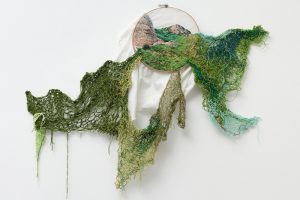 Photo: Ana Teresa Barboza
Think about moss covered outdoor furniture or vases where the plants grow on them rather than in them. It makes me breathe easier just to think of this.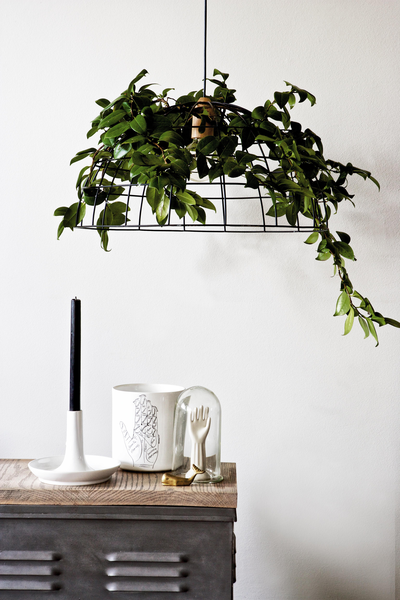 Photo: Studio 19
Respite from technology: hand-made low-tech from Analogue Workshop
If the colours of Desert Wanderer got me ooh-ing so did the materials of Analogue Workshop.
My favourite style is a mixture of industrial meets Scandinavian meets vintage meets handmade – and now I know a name for it! Oh yes, old crafts and utilitarian items as a new take of industrialism; multi purposed, handmade and workshopped; modest and precise products which are made to last will be in fashion. Hallelujah! I can't wait to see what goodies this brings!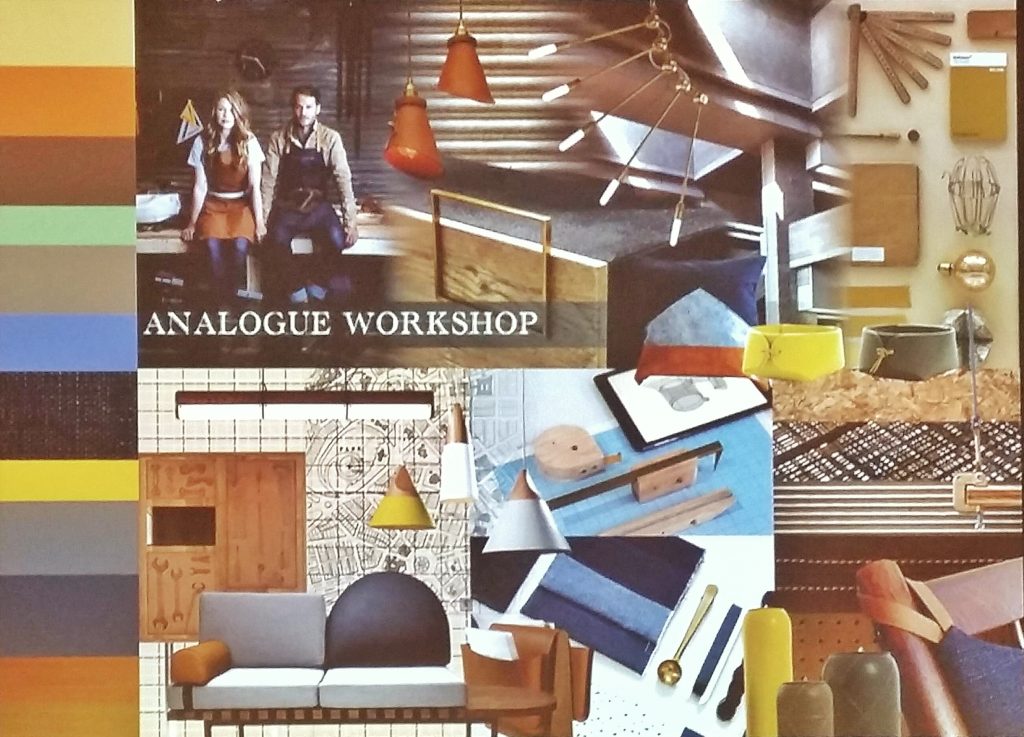 Photo: Victoria Redshaw – Scarlet Opus
Think about leather, brass and bronze details on delicately dovetailed timber furniture and finding furniture with multiple uses. Cork and chipboard are also materials for the digital detox. Colours are indigo blue, ordinary and simple colours (greys, browns) accented with orange, mint green and yellow.
Power to all the women in Tribe
The last trend Victoria Redshaw mentioned interests me mainly for the message it gives, rather than its colours or materials. Empowering and supporting independence of women in all countries will be trendy! I like the mindset of these trend-people! Strong is the new pretty.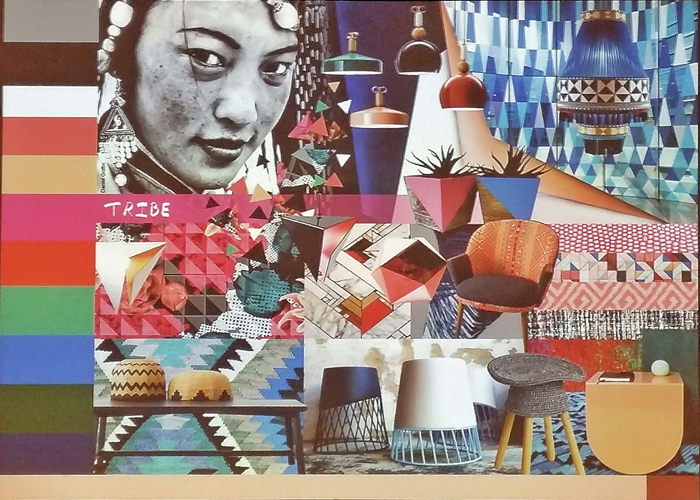 Photo: Victoria Redshaw – Scarlet Opus
Power pinks and energetic blues are not my thing, but globe-trotting folk crafts and graphic, bold patterns perhaps more so. The main common denominator for this style is to encourage independent women producers in their small businesses around the world. Go sister!
I am super excited for these trends and can't wait to see them in shops. To be honest, I did spot some of them already on my rounds today.
What do you think of these trends? Contact me if you'd like help to introduce them to your home.

Have a lovely day!


Sari