Hello again!
Struggling with bathroom design? Don't be! Here's helpful advice on how to avoid six very common bathroom design mistakes.
As you probably guessed, they are related to tiles, tapware, plumbing, space planning and lighting.
Tiles
Here's the thing: Tiles are the hardest to choose and have the biggest impact on the look of the bathroom.
1. Problem: I can't get the tiles I wanted
Solution: Plan early.
Tiles are often imported and Australia is far. They can take months to arrive to our shores. Do your bathroom design well in advance and order your tiles at least 3-4 months before they are needed. The selection is suddenly much wider!
What does "well in advance" mean?
It means at least six months. Two months for the design and changes and re-design and changes (repeat as necessary). Four months for the tile order.
And no need to worry about where to store pallets of tiles for possibly several months – the shop will be happy to keep them for you and deliver when you're ready to receive them.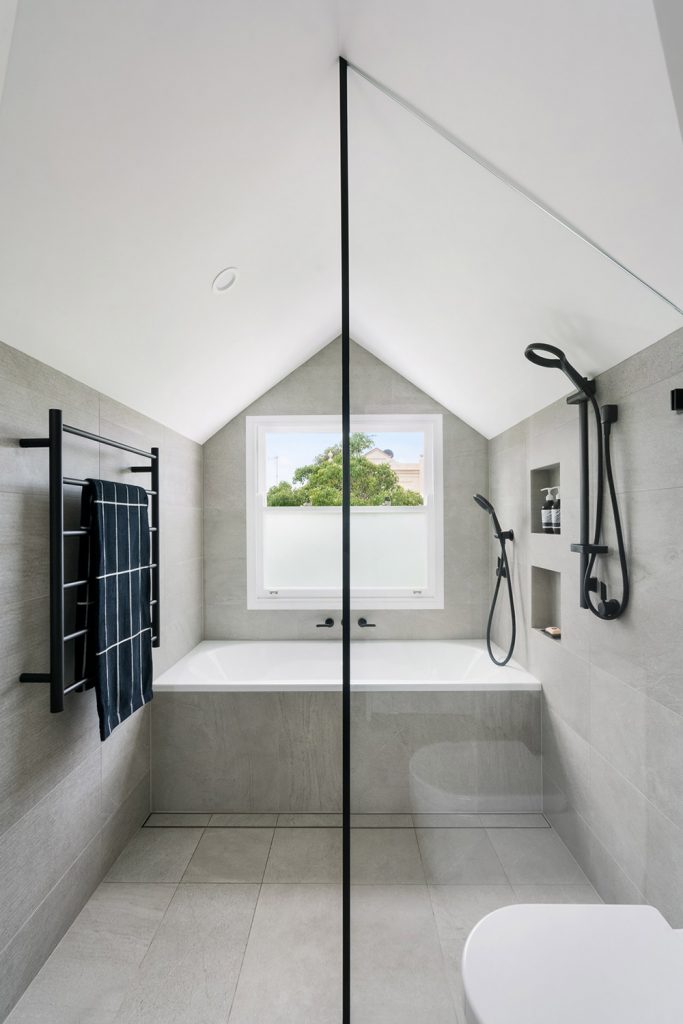 Factor in the tile leadtime – three months is common. Photo: Rebecca Lu Photography
2. Problem: The result doesn't look like what I had imagined
Solution: Agree on the tiling layout with the tiler in advance and prepare a detailed tiling schedule.
You need to specify at least:
On which layout the tiles will go on the floor or wall (grid, brick, herringbone, etc.) by using a picture or a diagram.
How to deal with the cut tiles. It's likely that you can't fit full tiles to fill the space exactly. Is there going to be a full tile in the middle and cut tiles at both ends of each row, or would the full tiles be lined up at the most visible side of the room and cut tiles on the more hidden side?
There's more:
The spacing of tiles, i.e. the amount of grout you'll see in between the tiles – the narrower the neater.
Grout colour: Match the colour of grout to the tile for a more uniformed look and contrast them in cases where you want to highlight the tile shape and layout. Do yourself a favour and don't use white grout on any floors… (and if you already did: bi-carb soda, vinegar and an old electric toothbrush will become your new best friends. Just saying.)
And… the SPECIAL TOUCH:
Corner treatment – Think about niches, window sills and other corners: you can only do mitre cutting to high quality porcelain tiles. Ceramic tiles have the colour applied only on the surface and they are too thin to cut, instead you would need aluminium or plastic corners.
If you really don't like the tiling result, the time to complain about it is when the glue still hasn't settled. It's easy to remove freshly laid tiles, rather than trying to pull out completely glued tiles and having to re-do the water proofing to the whole room again. This may mean that you need to be there to supervise the tiler – I seem to be repeating myself.
Tip: If you use the same colour tiles on the walls and on the floor, they would look lighter on the floor (read: not the same). That's because of more light reflections on the floor.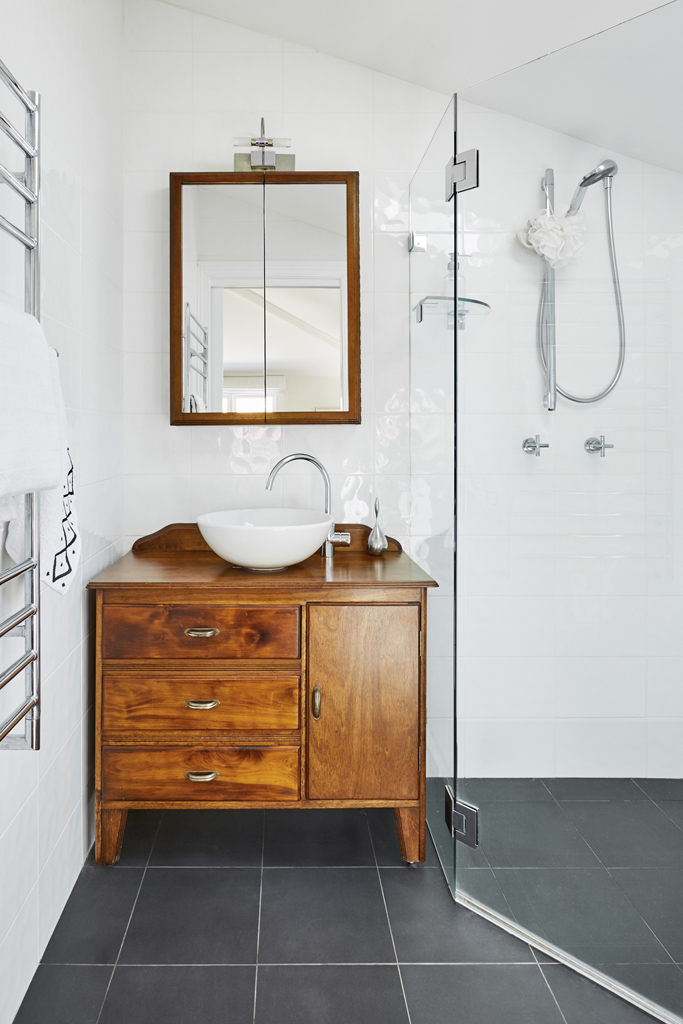 Very simple (and economical) tiles on the walls allow the old cupboard and vanity to shine. Photo: INSIDESIGN
Tapware
Tapware is kind of the main point of the bathroom… If they are installed so that they don't work properly, your bathroom is not usable.
3. Problem: Hey this tap doesn't work properly!
Solution: Double-check the tap's intended location and size!
Make sure you have enough separation between the tap and the top of the basin to allow you to rinse hands below it.
Make sure the tap handles have room to fully extend to the cold and hot position.
Make sure your taps are installed in the correct location so that the water flows on the *inside* of your bath tub / basin. Wet feet are no fun. And while you're at it, make sure the tap is long enough, so that it approximately reaches to middle of the basin or to the waste hole. If the tap is too short or on a wrong height you might splash yourself every time you run water.
And finally, make sure you have space between the top of the tap and the shaving cabinet above it, so that you don't pinch your fingers every time you open the cabinet doors.

---
PS. Order taps in time. Special finishes can take 3 months or more to arrive! And yes, there are parts that are needed right from the start.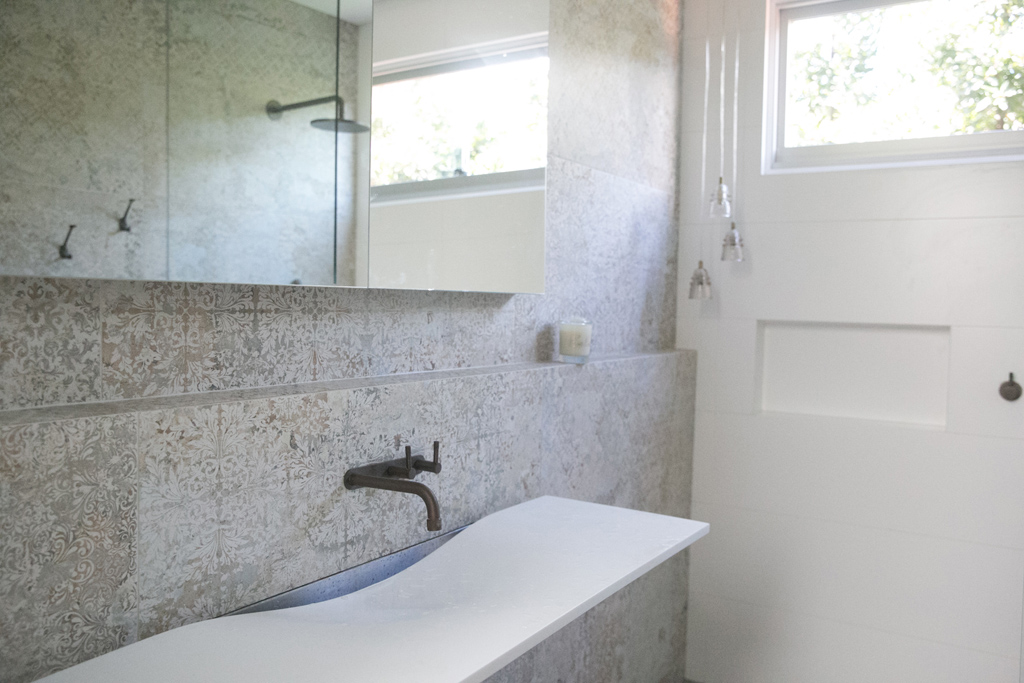 Special tap finishes take time and money but the result is very special. Photo: INSIDESIGN
Plumbing
Plumbing is the endless source of surprises and joy in bathroom renovations. Only to be matched by the Surprises Below The Demolished Floor.
4. Problem: The quote is three times more than our expectations!
Solution: Find out your options before deciding on action.
(Nearly) everything is possible but some things will require a large budget. Have a good chat with the builder and plumber before you start, especially if you're renovating an old bathroom. Depending on the current plumbing, floor material and sub-floor access, some solutions might not be sensible to do in your bathroom and can push the cost right up to the sky. If your bathroom is built on a concrete slab it is usually more cost effective to re-use existing plumbing locations as much as possible. You might have more freedom for changes with timber structures.
Tip: when you're planning a bathroom upstairs do pay attention to what is below. It's not particularly nice to have waste water pipes and flushing sounds just above your dining table.
Space planning
Oh yes, the awkward bathroom. We've all seen them! That's why you're renovating, right?
5. Problem: Everything just feels wrong in this bathroom!
Solution: Size doesn't matter, but space planning does. It is the key to comfort.
You need to have the right scale of fixtures in the right places and enough space to be able to use them.
Consider which way doors and drawers open and where you would stand when using them. Double check that doors don't bang into each other.
Note: The shower cubicle door is also a door and needs room to open! Do not put a square shower in a corner with a vanity on one side and toilet suite on the other, unless the shower door is placed in the corner diagonally.
Decide on the right height for mirrors, cabinets and basins so that they are practical to use. Usually top of basin should be between 810-915mm. You need a minimum of 700mm free space in front of the basin to be able to lean down to wash your face. Leave wide enough space over/around basin for your arms and elbows when you lean down to wash your face. And if you have a very small basin, don't install a surface mounted shaving cabinet above it, otherwise you can't wash your face in the basin without knocking your head every time.
If you're going to install a free-standing bath tub remember that somebody has to clean behind it somehow – the tub should be installed far enough from the back wall. Speaking of bath tubs: Consider who is using it. Kids can bath in a small tub, but a tall person needs a long or deep tub to be fully covered in water. (Don't get me started on a tall, pregnant person trying to bath in a mini-bath – it's a good incentive for a bathroom renovation!)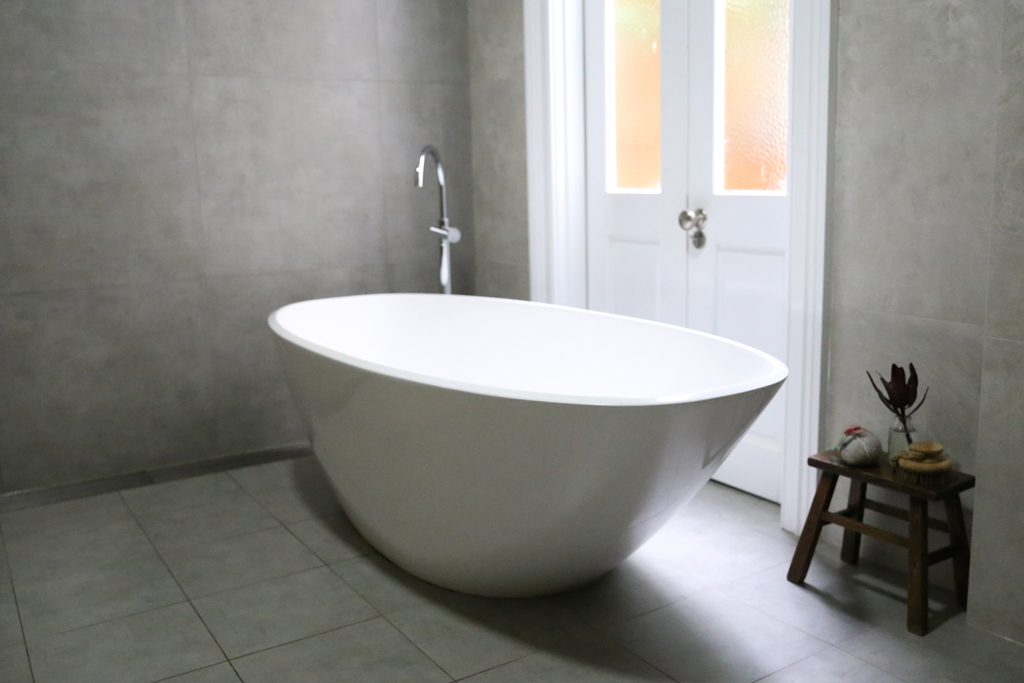 There's just enough room to walk past this bathtub to a little private courtyard, or to open the French doors and bath in moonlight. Photo: INSIDESIGN
Lighting
6. Problem: I can't see what I'm doing vs. my skin looks blue
Solution: A lighting plan. Again: before you start.
Lighting is important. You need natural light for doing your make-up properly and not to appear orange when you're ready. You need a good light for seeing things that needs to be cut, removed, plucked and taken care of. You need a soft light to create a relaxing atmosphere during your bath time. And some people need funky disco lights to their shower. I hope you're not one of them.
Electricity in bathrooms is heavily regulated – and for a good reason! Check the IP rating of your intended light fittings: inside a shower or bath area you need a minimum rating of IP67 (protected against immersion in water), a bit further away from water sources minimum IP44 and far away from water you can have "normal" lights.
Note: This means that the fancy vintage chandelier can't go above the bathtub.
… But what if I don't have natural light?
Some of us don't have the luxury of having a full size scenic window in the bathroom. That doesn't mean you can't have natural light in there! You can install a solar skylight system which transfers daylight from a solar panel on the sunny side of the roof to a ceiling diffuser in the dark bathroom with a simple fibre optic cable, and voilà, suddenly you have natural light (google "Illume" for this)! I love it.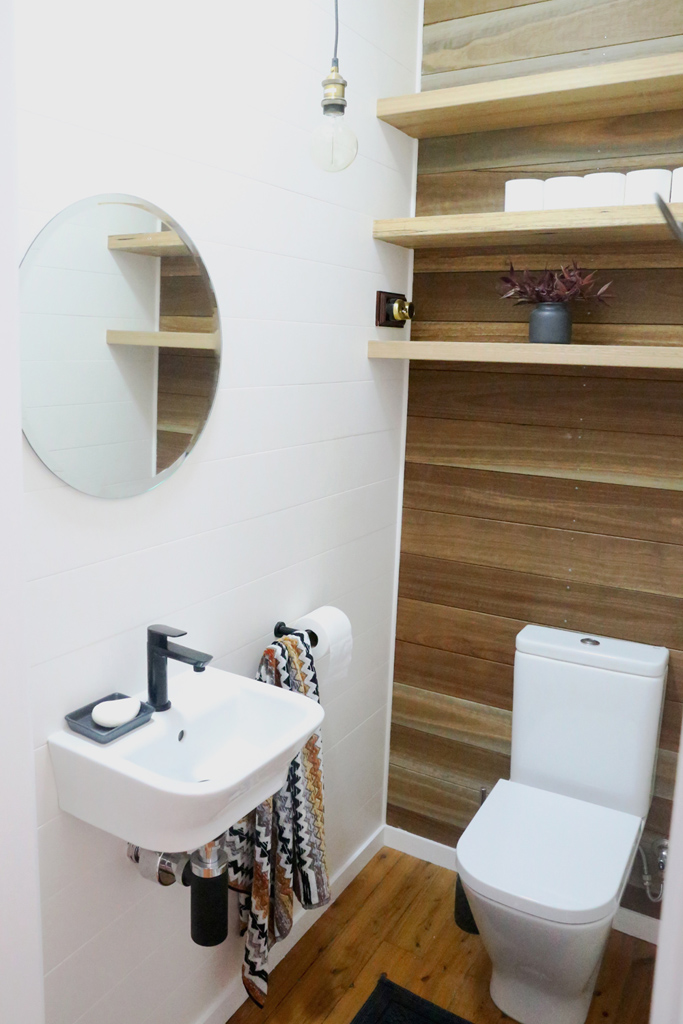 This little farmhouse toilet doesn't have windows, but the Illume solar skylight keeps it bright. Photo: INSIDESIGN
Tip: Don't forget the power points! A good spot for them is inside a shaving cabinet – out of sight AND it's the nearest to the vanity that you are allowed to fit them.
Hope these tips help you in your bathroom renovation projects. If you need help with your bathroom design, please do give me a call or send me an email.
Subscribe to my blog if you're not already a subscriber!
Have a nice week!
Sari