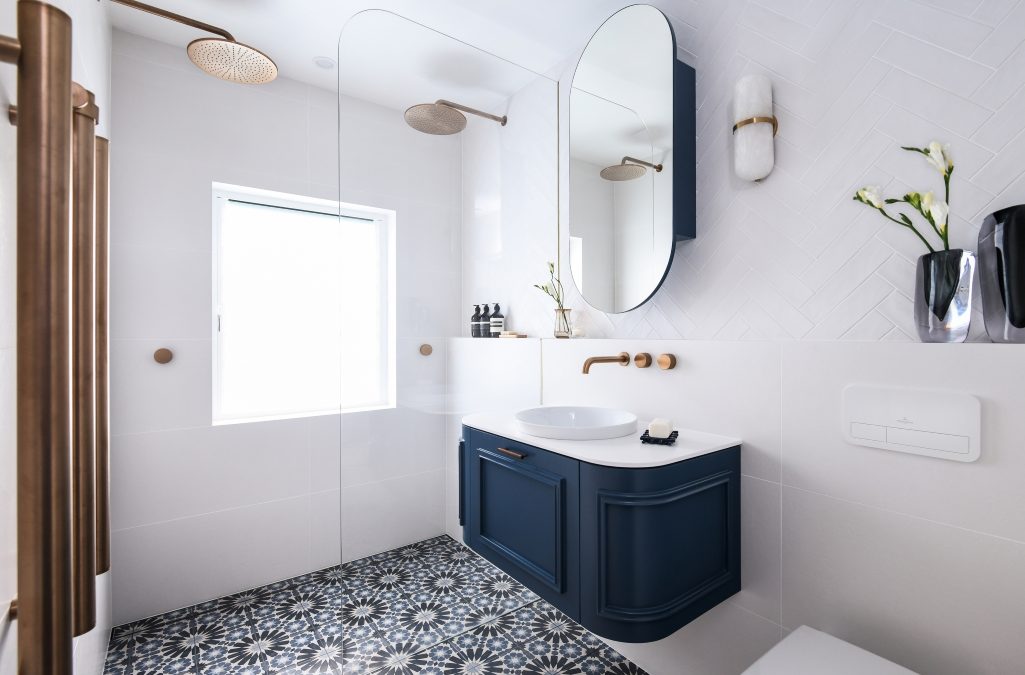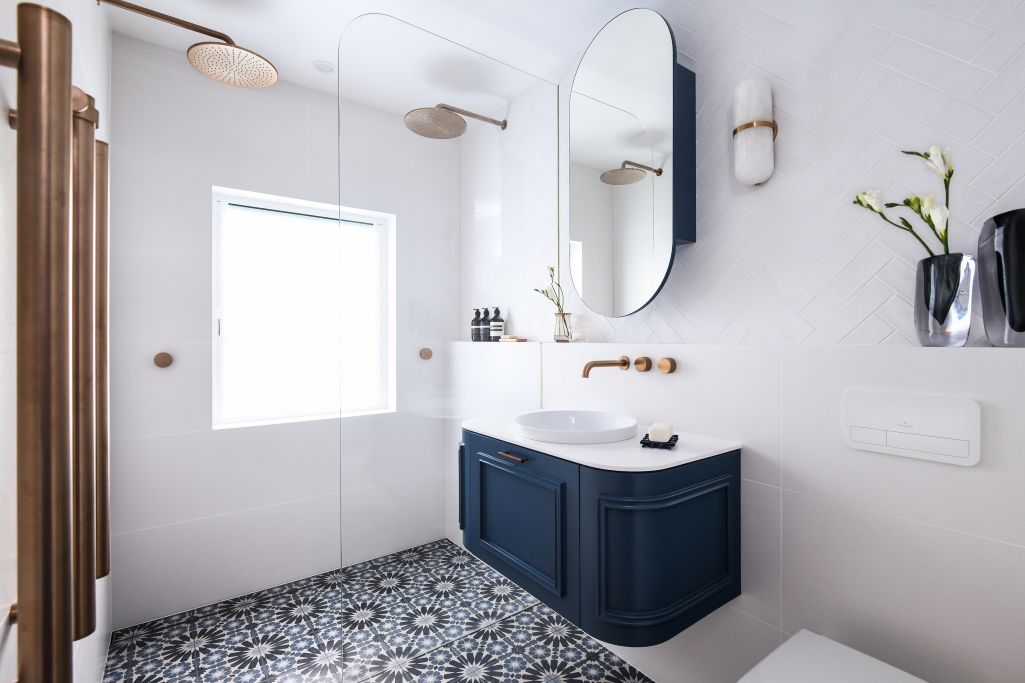 Would you believe this lovely ensuite bathroom was once dark and dated bathroom with no storage!

Read here about the journey of reviving this space, blending its historical charm with a modern touch. Discover the obstacles we faced, the creative solutions we found, and the beautiful design elements that brought this renovation to life.

And keep your fingers crossed for me to win the Small Bathrooms category in this year's KBDI Designer Awards!
---
Design Challenge:
Elevating a Dated Space
The original master ensuite presented a range of challenges, with its steep raked ceiling, dated shiny brown mosaics, and lack of natural light. Its cramped layout and insufficient storage didn't harmonise with the rest of the home. To transform this space, my goal was clear: create a light-filled and modernised sanctuary that met the homeowners' needs while respecting the architectural era.
Innovative Solutions:
Form and Function in Perfect Harmony
One of the homeowners' main requests was a double shower, a daunting task in such a compact space, especially without a shower screen. Determined to find a solution that balanced form and function, I devised a design that featured a beautiful double shower with a half glass screen. This new layout involved replacing the old tub, making way for a spacious and stylish shower area that fulfilled the clients' desires.

---
Design Elements:
A Fusion of Timeless Sophistication and Modern Luxury
Drawing inspiration from the home's historical charm, I selected a well-proportioned navy floating vanity with rounded corners and traditional panelling. Not only did it exude elegance, but it also provided much-needed storage. To create an illusion of spaciousness and easier night-time access, motion sensor-controlled underlighting was integrated beneath the vanity, adding a touch of modern functionality.
Every detail was thoughtfully curated to reflect a fusion of timeless sophistication and modern luxury. Carefully chosen sconce lighting, a pill-shaped mirror cabinet, and captivating patterned tiles harmonised with the overall style of the home, creating a cohesive and visually appealing space. These elements seamlessly combined old-world charm with contemporary allure, showcasing the refined taste of the homeowners. Additionally, the addition of two cabinets addressed the previous lack of storage, significantly enhancing the functionality of the ensuite.
The floor tiles emerged as a central focal point, captivating both myself and the clients. The pattern offered the perfect blend of old-world charm and modern luxury, striking a harmonious balance. Taking inspiration from these tiles, we carefully selected matte wall tiles and textured herringbone subway tiles in a shade of white that complemented the floor tiles, infusing the space with brightness and elegance.
---
Attention to Detail:
The Finishing Touches
To complete the luxurious aesthetic, I chose bronze tapware that embodied the home's refined style. Thoughtfully selecting shower heads, towel rails, and taps, we achieved a seamless integration of elegance and functionality. Unfortunately, due to budget considerations, the matching toilet flush button had to be omitted from the final selection.
The walk-in-robe was not overlooked in this transformative process. Its refurbishment involved refinishing with new shelves in a matching colour and shape to the vanity, creating a flowing and cohesive space that seamlessly connected with the ensuite. This meticulous attention to detail ensured a functional and beautiful environment worthy of the grandeur of the Victorian home.
---
In the world of interior design, the transformation of this master ensuite and walk-in-robe stands as a testament to the power of blending historical charm with modern sophistication. By reimagining the space, addressing its limitations, and infusing it with elegant design elements, we succeeded in creating a sanctuary that perfectly suited the homeowners' lifestyle while honouring the architecture of their Victorian home. 
Stay tuned for more captivating design stories that celebrate the beauty and functionality of our living spaces.
---
Sari