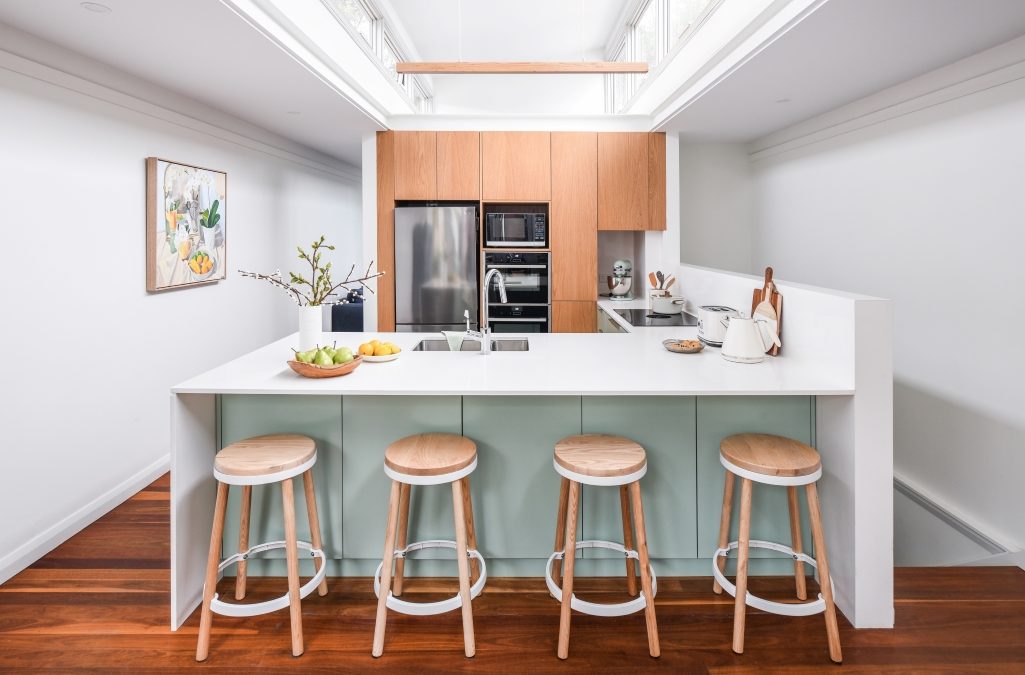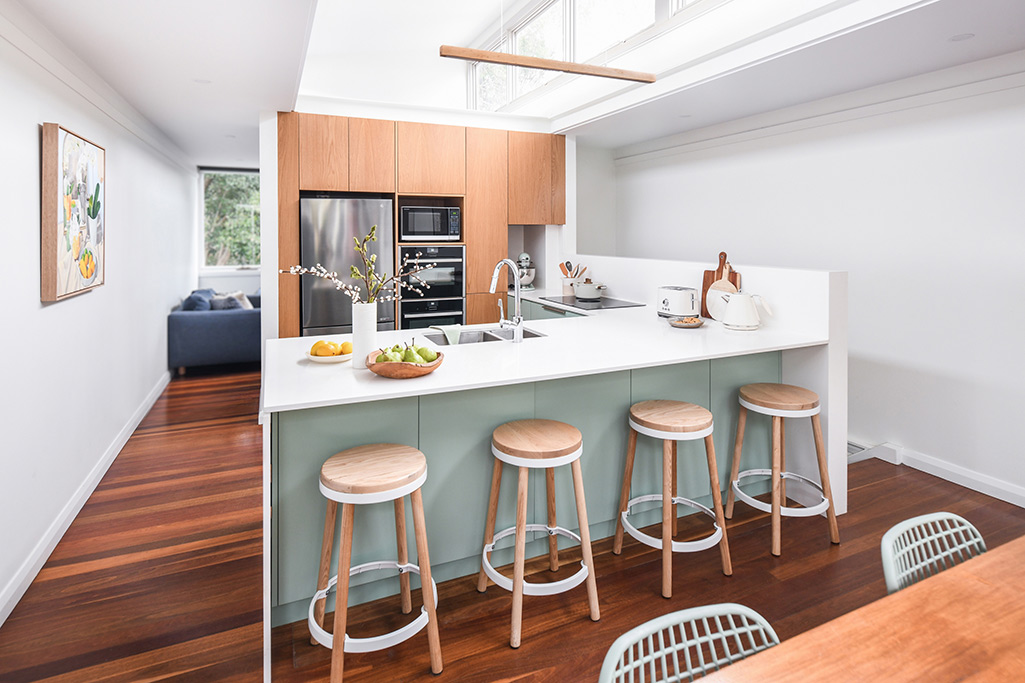 ---
My clients are a family of four with teen / adult kids and they love to cook. They live in a small terrace home with a somewhat unusual layout. They had a very small, dark, oppressive kitchen that was squeezed in between dining and living rooms, with a steep staircase to one side. The kitchen offered almost no bench space, and it was nearly impossible to cook in there.
---
The kitchen before: no bench space at all and very limited storage
---
They were also working with extremely limited storage, so the little work area they had was taken up by their kitchen appliances. The issue was further compounded by the bench being a double level, which was halving their workspace.  We also needed to work around a structural beam and a huge range-hood tube that went up into the high ceiling.
They gave me a very simple brief: please make it work for us! And told me they love green, white, and timber.
I love a design challenge, but the beauty has to be matched by the function. The first hurdle was to work out how we could get more space and storage into this kitchen without compromising the adjoining already small living and dining areas.
I borrowed space from living room by demolishing built-in cabinets, redesigning new cabinets to another wall in the room and pushing the kitchen wall to line up with the old cabinet fronts to extend the kitchen. We knew about the structural beam above but the builder thought it would be supported by the side walls. There turned out to be vertical steel structures recessed within the space which caused many issues, redesign and compromises at installation.
---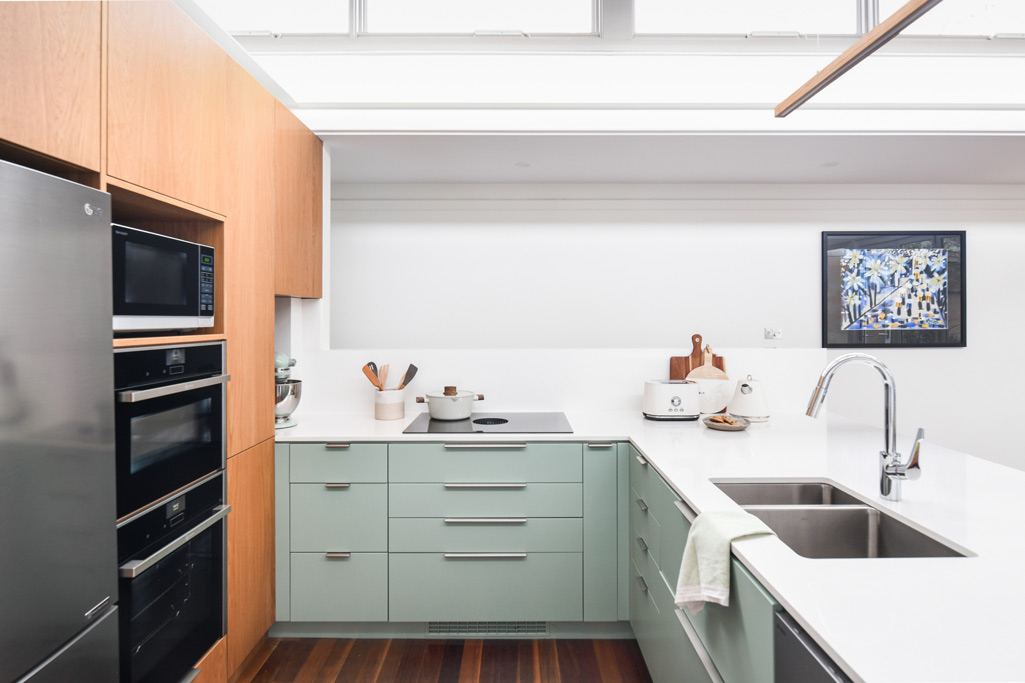 The back appliance wall was moved further back towards the living room allowing more space to the kitchen. Bora cooktop includes a rangehood.
---
On the dining room side we had no space to borrow. Flattening the benchtop to a breakfast bar made the kitchen much more useable space for the family. Instead of separating the kitchen the benchtop now unites the two spaces. This meant they not only had room to cook – they even got a new breakfast bar, which they love!
The kitchen was extended in essence within the same external footprint; enough to allow for a small third bank of joinery. We retired the long tube style rangehood by using a Bora cooktop with recirculating extractor. Corner spaces were used efficiently with a Magic Corner in one, and an extra deep appliance cupboard accessible from the breakfast bar side in the other corner.
---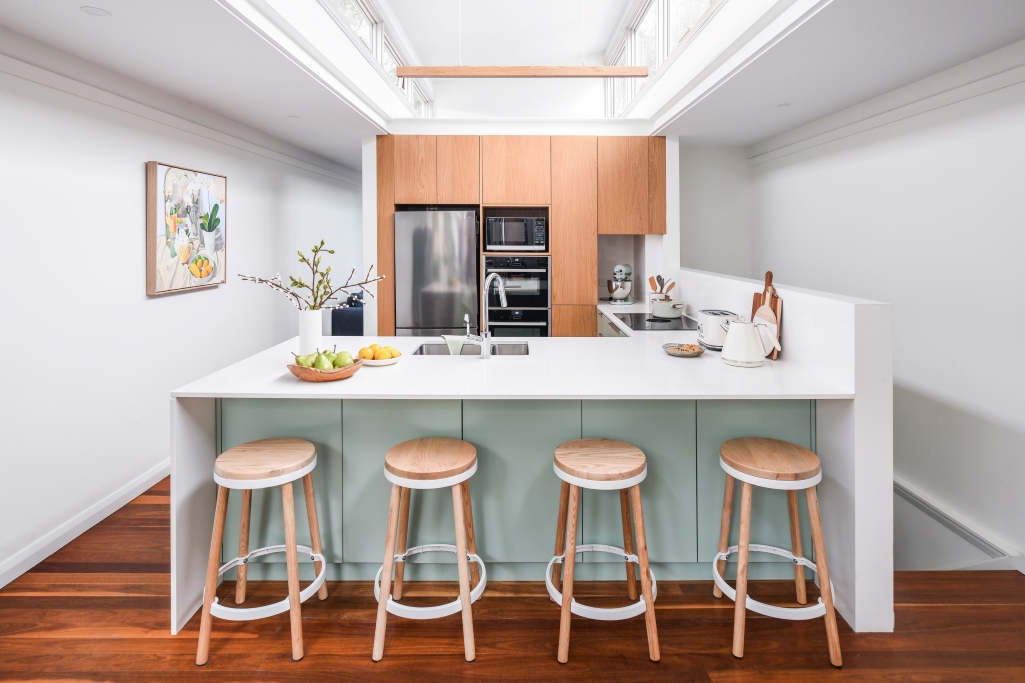 ---
I finished the room with cabinetry in a beautiful pale green and warm timber, with matching timber lighting fixture. The benchtops are white to create the feeling of brightness and space, and the overall effect is airy and cheerful.
---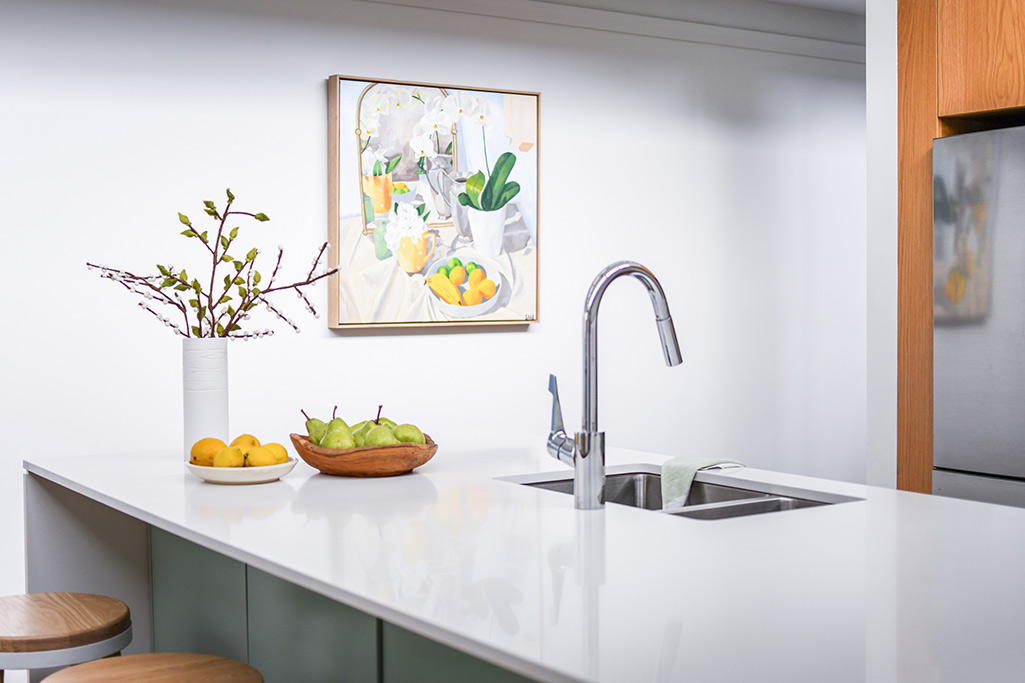 ---
My client says: "The designer worked in a very constrained space to create a beautiful and well- functioning kitchen. It looks great and is simultaneously very practical… better than I had hoped for."
---
Sari